Alaska King Salmon Slam Package Web Special
Book 6 NIGHTS,
All King Salmon trips.
Fish the Kenai and Kasilof Rivers to your hearts content. After your guided trips you are welcome to bank fish, we have everything you need or our guides will take you out for an afternoon trip. If the Kings are on the Kustatan we will even send you out on a Fly out to try your hand there.
If you want to troll for Kings in the Salt Water that is also included.
Your trips are only limited by your catch liimits.
All meals, all gear, check in Sunday out on Saturday.
All fish processing included. Includes fishing license and King stamp.
Special King Salmon price $3,500 reduced to $2,900 If booked by March 1st.
Alaska Salmon Fishing
We fish the Kenai and Kasilof rivers for King Salmon plus we salt water troll for Kings. This photo is on the Kasilof River and some Kings it gave up to a couple of our guests. The Kenai has two runs of Kings early and late. Traditionally the Kenai has larger Kings than the Kasilof. Our experience is that the Kasilof often fishes better than the Kenai. When you fish with us we will ask you make the final decisiion of which river you want to fish after we give you all the information on how they are both fishing. When the sockeyes start running we often will fish for Kings and Sockeyes in the same trip.
Crooked Creek Retreat is well located, 15 min from the Kenai and 2 miles from the Kasilot River. King Salmon season starts May 15th, then the Sockeyes come in and next the Silvers. We can also take you on some great trout fishing adventures. Late season we often combine trout and Silver fishing trips on the middle Kenai. For fall fishing we switch to the Silvers, Steelhead and trout. Ther is great fly fishing on the Ninilchik, Anchor, and Deep Creek in addition to the Kenai Kasilof and our local lakes.
Our Kenai River Guides are graduates of the KPPC Kenai River Guide Academy and hold certificates. They have also completed all US Coast Guard course work and hold US Coast Guard licenses, Alaska Fish and Game guide licenses, first aide certificates, and have met all the requirements of the Kenai River Center. Our Kenai River guides are Alaskans and fish these rivers and lakes as long as the water is running.
They often also fish the Kasilof River and our main Kasilof River guide has fished the Kasilof for many years, few if any can out fish him on the Kasilof.
We provide rain gear, boots or waders as needed. Most of our rods and reels are new for the 2013 season. We use Kofler boats, drift and power, they are extremely clean and comfortable. We fish a maximum of four per boat. Normally with a group of six we will put three in each boat.
Depending on the time of year you can expect to fish Kings, Kings/Sockeyes, Sockeyes/Silvers and those Humpies/Pinks. The guides will discuss the runs available with you and prepare for the next day's trip based on your choices. Or you can take a trout fishing day and side drift the Kenai, fish a local lake, or try a fly out.
Salmon Fishing Rates:

Kenai: $275-$300
Kasilof: $275- $300
Walk-ins: $200
Fly outs: $375 - $650

Trout Fishing Rates:

River: $275- $300- two to a boat
Walk-ins: $200
Combo Sockeye/Silver/Trout: $275-300
Fly outs: $375 - $650
Book a group of 6 or more and save on individual trip rates. Call 907-260-9014 for group rates or packages put togthr specially for you and your group. We also book fishing trips and charters for those of you who are traveling on your own, bunking with friends, camping or using motor homes. We can arrange you trips, your fish processing, and have it ready for you when you leave or arrange to have it shipped for you.
Alaska Kenai Peninsula Deluxe Fishing
Book 6 nights, all meals, all gear, all fish processing.
Fly outs, Salmon tnps, Multi Species Salt Water trip or Halibut Salmon Combo depending on time of year.
River Fishing, Kenai, Kasilof, your choice or both. Salmon or Trout, your choice depending on time of year.
Guided trips as many as you can fit in during your visit. When you book we will set the itinery you want for your basic trips and then you can add in as many more as you want only limited by liimiting out. We will even give you a guiided trip on your check out day if you have time.
Check in Sunday out on Saturday, Book a group of 6 or more and everyone in the group recieves a 7th night free. $3,500.

Late Fall Fly Fishing Package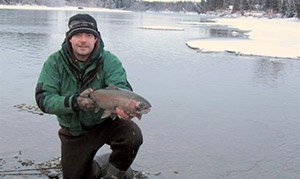 Steelhead, Trout and Silvers.
Do not worry if you are a novice, our guides will have you casting and fishing our rivers in no time.
Join us to fish the Ninilchik Anchor and Deep Creek for those great Rainbows, fall run Steelhead and Silvers.
Fly fishing rules this time of year, and our guides will put you on some truly tight line fishing. In the evenings you can sit by the fire and learn to tie some Alaska flys for your next days adventure. There are so many options we never worry about water conditions. We include all fish processing.
6 nights, all meals, all gear, check in Sunday out on Saturday.
Included is all the fishing you can squeeze in. We suggest 2 or 3 walk in Steelhead/Silver trips, 2-3 Kenai or Kasilof Trout and or Stellhead, Silver Fishing.
You may end up drifting the Kasilof, side drifting the middle Kenai, chasing the fall steelhead runs in any number of rivers. Or we can fish some local lakes for Arctic Char, Grayling, Dolly Varden and Rainbows. If you ar interestd the guides can also tak you out for Alaska Land locked Salmon.
September 1st to October 15th $2,400
Fly Outs
Try a fly out for great fishing, trout or salmon, fantastic scenery and wildlife viewing all rolled into one. There are remote lakes just waiting for you with Arctic Char, Grayling, Dolly Varden and Rainbows or Lake trout. Fly outs can be included in your packages or added. The most popular fly out is Wolverine Creek/Big Lakes. Fly outs run between $375 to $450 for a basic trip. There are also available day charters that allow you to fly from lake to lake.

The King Salmon

Chinook Salmon - Oncorhynchus tshawytscha

The Chinook Salmon is the largest of all species of Salmon. A mature chinook averages 36 inches and 30 lbs. A three year old may weigh only about four pounds while a 6-7 year old may exceed 50 pounds. They have been known to exceed 120 lbs.

A Chinook starts it's life cycle in fresh water and returns to exactly the same spot to spawn. A female builds a nest, redd, in larger gravel with a good water flow. They will spend a few days to a month guarding the redd until they die. A smolt may spend as little as 3 months in the fresh water stream or as much as 1 to 2 years. They normally spend about 3-4 years in salt water and returning to spawn and die. Some will mature later at 6 -7 years, it is only this returning age group that has more females than males. Some yearling males return after 2 to 3 months in salt water or maturing in fresh water, these small bucks are often refered to as "Jacks". Females mature at an older age. The Chinook is the largest of the Salmon species.
Most rivers and streams have only one run King Salmon returning each year. On the Kenai Peninsula and early and late run return to the Kasilof and Kenai Rivers. Approximately 75,000 Kings are caught every year and over half of those are on the Kenai Peninsula.
There are two types of Chinook Salmon, the stream and ocean. Alaska Chinooks are of the stream type, they spend longer in the fresh water, are larger smolts and migrate to the North Central Pacific Ocean. The ocean type leave earlier for the salt water and spend their time maturing in coastal waters. These have mainly spring and summer runs. The stream type migrate much further and have runs in the fall and winter especially in the coastal waters off Alaska. Chinook Salmon are caught throughout the winter in Alaska.